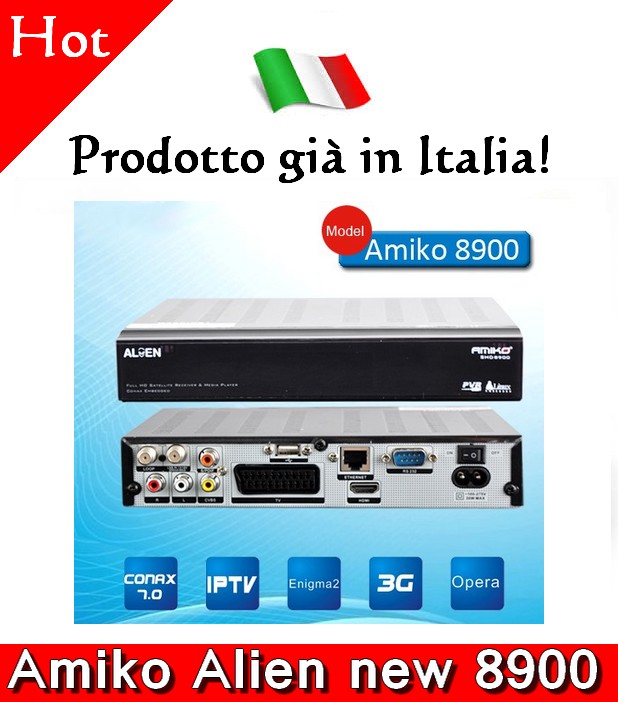 Ricevitore Satellitare Decoder AMIKO ALIEN 8900 FULL HDTV
€94.49
Esaurito
Descrizione
Usati solo per test NUOVISSIMI CON GARANZIA ITALIA – DIFFIDATE DA COPIE SCADENTI E DI PESSIMA QUALITà e senza garanzia!
Caratteritiche del prodotto:
MPEG-Fully DVB-S / DVB-S2 HD compliant
Linux Embedded OS
Conax Embedded Card Reader
Endless channels (TV and Radio) programmable
Multilingual menu text support
Channel list editing
Favourite channel list editing
True-color On-Screen Display (OSD)
Full Picture In Graphic (PIG) function
Electronic Program Guide (EPG) for on screen channel information
Subtitle supported
Teletext supported by software emulation
Parental lock facility by channel and program event
Program and Channel information transfer from receiver to receiver
S/PDIF for digital audio or Dolby Digital bitstream output
DiSEqC 1.0, 1.1, 1.2 and USALS
HDMI HD Video/Audio Output
USB 2.0 Host
LED Display for service information
RTC (Real-Time-Clock)
Time Shift
Video Recording
Recording one channel and Time Shifting another channel (optional)
FullHD 1080p output via HDMI
AVI, MKV, MPG, TS, WMA, WMV, M2TS, FLV, DAT, ASF, MP3 playback
YouTube, SHOUTcast Radio, and Picasa Compatible
Weather forecast & Rss Reader Functions
Software Upgrade support via USB, RS232 or Internet
Endless possibilities with Plug-In support
Message, FAQ and User Manual support
Download files from FTP server
SYSTEM RESOURCES
Main Processor: 450M Hz based CPU
Flash Memory: Nor flash: 8MB X 1 ; Nand flash:512MB X 1
DDR SDRAM: DDR2 128MB x 2
Tuner/Front-end
Tuner Type: DVB-S / DVB-S2
Input Connector: F-type, Connector, Female
Loop Through: F-type, Connector, Female
Signal Level: -65 to -25 dBm
LNB Power & Polarization: Vertical: +13V/+14V, Horizontal: +18V/+19V, Current: Max. 500mA, Overload Protection
22KHz Tone: Frequency: 22±1KHz
DiSEqC Control: Amplitude: 0.6±0.2V, Version 1.0, 1.1 1.2, USALS Available
Demodulation: QPSK, 8PSK
Input Symbol Rate: 2-45 Mbps, Convolution Code Rate
1/2, 2/3, 3/4, 5/6,7/8,1/4,1/3,2/5,3/5,4/5,8/9,9/10 and Auto
POWER SUPPLY
Input Voltage: Free Voltage (100~240V AC, 50/60Hz)
Power Consumption: 20W MAX
MPEG TS A/V Decoding
Transport Stream: MPEG-2, H.264
Input Rate: Max.120Mbit/s
Aspect Radio: 4:3, 16:9, Letter Box
Video Decoding: MPEG-2, MP@ML, MPEG-4 part 10/H264
Video Resolution: 720*480P/I, 720*576P/I, 1280*720p,1920*1080i, 1920*1080p
Audio Decoding: MEPG-1 layer I/II, Mpeg2 layerII, Dolby digital
Audio Mode: Left / Right / Stereo/ Mono
Sampling Rate: 32, 44.1 and 48KHz
A/V & DATA INPUT/OUTPUT
TV-SCART: Video CVBS/RGB output, Audio L/R output
RCA A/V: Video CVBS output, Audio L/R output
S/PDIF: Coaxial, Digital Audio or Dolby Digital Bit Stream Output
RS-232C: Transfer rate 115.2Kbps, 9 pin D-sub Type
RJ-45: 10M/100M
USB: One USB 2.0 slot Compatible for Host
HDMI: VER1.2, Type A
PHYSICAL SPECIFICATION
Size[W*H*D]: 220mm*46mm*169mm
Net Weight: 1.0KG
Operation Temperature: 0°C~+45°C
Storage Temperature: -10°C~+70°C
Storage Humidity: 5%~95% RH (Non-Condensing)
Informazioni aggiuntive
| | |
| --- | --- |
| Peso | 3 kg |
| Dimensioni | 45 x 30 x 10 cm |
Solamente clienti che hanno effettuato l'accesso ed hanno acquistato questo prodotto possono lasciare una recensione.